Skip to Content
Meat
Introducing Baiz Fresh Foods: Your Destination for Premium Mediterranean Meats in Phoenix, AZ
Are you tired of the same old meat options at your local grocery store? Look no further because Baiz Fresh Foods is here to fulfill all your meaty desires! As a full-service grocery store with three convenient Phoenix-area locations, we specialize in Mediterranean, Middle Eastern, and Greek groceries, offering you a world of flavors right at your fingertips. And our meat selection is truly a cut above the rest.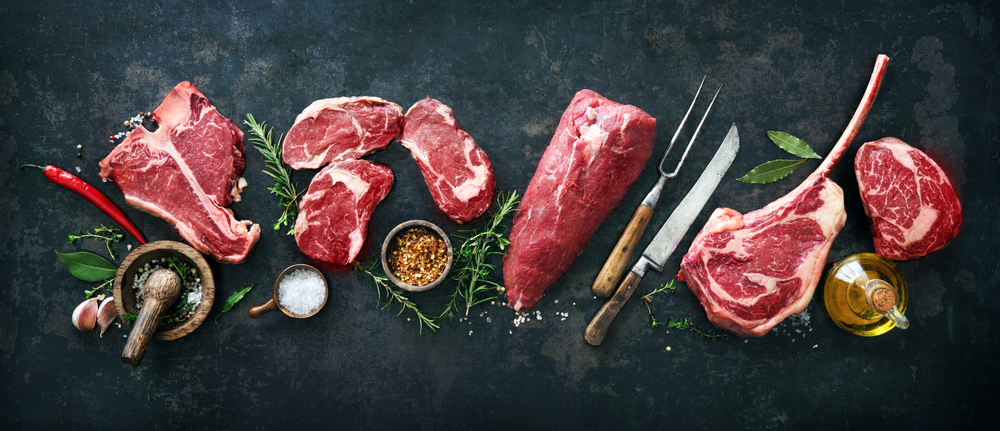 Unparalleled Quality: Grass-Fed, Hand-Selected, and Expertly Butchered
At Baiz Fresh Foods, we understand that quality matters when it comes to meat. That's why we take extra care in sourcing only the freshest, highest-quality meats for our valued customers. Our beef, lamb, and goat meat are all grass-fed for a rich and natural flavor that is unmatched. Every piece is hand-selected to ensure tenderness and succulence. And with our traditional hand-slaughtering techniques, you can be confident that each cut is prepared with the utmost care and respect.
Customized to Perfection: Deboning, Cutting, and Dressing to Your Liking
We believe that every customer deserves personalized service. That's why we offer the unique option to have your meat deboned, cut, and dressed exactly how you like it – all at no additional charge. So whether you prefer boneless steaks, thick chops, or perfectly diced cubes for your favorite recipes, our skilled butchers are here to bring your vision to life. You can trust that our attention to detail will result in a dining experience like no other.
Halal Chicken: Fresh, Hormone-Free, and Perfectly Trimmed
And if you prefer chicken, look no further than our hand-cut halal chicken. We take pride in offering a product that is free from added growth hormones, stimulants, chemical enhancers, and sodium-based solutions. Our chicken is always fresh, never frozen, and trimmed to perfection, ensuring that every bite bursts with flavor. From mouthwatering kebabs to delectable curries, our halal chicken is the secret ingredient that will elevate your table dishes to new heights.
Discover the World of Mediterranean Meats and European Delights
At Baiz Fresh Foods, we aim to be your one-stop-shop for all things Mediterranean. That's why, in addition to our premium meat selection, we offer a wide array of European delicacies, from olives and feta cheese to aromatic spices and traditional sweets. Come explore our aisles, and let your taste buds embark on a culinary adventure that spans across continents. We're committed to providing you with only the finest ingredients to create unforgettable meals that celebrate the robust flavors of the Mediterranean and beyond.
Visit Your Nearest Baiz Fresh Foods Location Today!
So experience the Baiz Fresh Foods difference for yourself. Come visit one of our three Phoenix-area locations, where our friendly staff awaits to guide you through our vast selection and ensure that you find exactly what you're looking for. We guarantee that our Mediterranean meats and European delights will exceed your expectations. After all, Baiz Fresh Foods is more than just a grocery store – it's a gateway to a world of flavors. Don't settle for ordinary; embrace the extraordinary with Baiz Fresh Foods.
Our butchers take pride in their knowledge and experience, and their rich selection of the freshest, highest quality meats. Our Beef, lamb & goat is grass-fed, hand-selected, hand-slaughtered & hand-trimmed & butchered the old-fashioned way. Come by our meat department to pick the piece of meat you want and get it deboned, cut & dressed to your choice at no additional charges. Try a classic T-Bone or a delicious Flat Iron Steak and turn a simple meal into a special one at a great deal!
With Baiz Fresh Foods, eating healthy does not have to be expensive anymore! Chicken is a classic, loved for its health benefits and versatility. Our hand-cut halal chicken has no added growth hormones, stimulants, chemical enhancers or sodium based solutions. It is always fresh, never frozen, & is trimmed just perfect to enrich your table dishes. Our friendly butchers won't fail you in preparing you and your family a unique cut of meat.
Exceptional Service and Quality Farm-Fresh Products